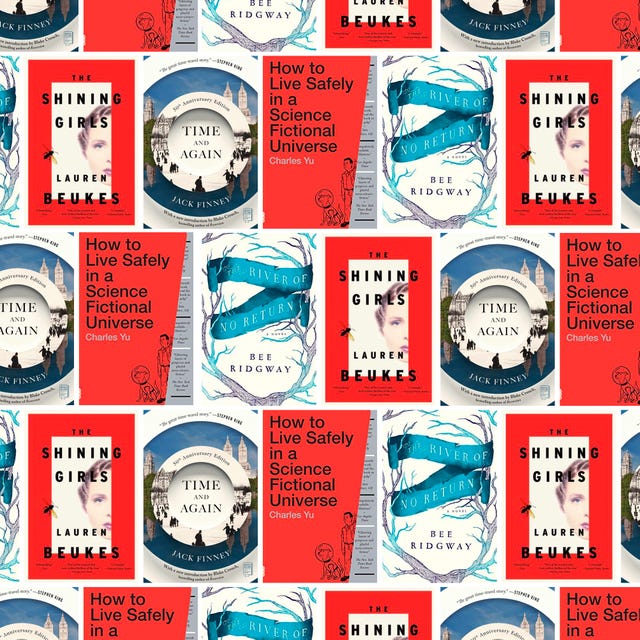 Courtesy of the Publishers
Diana Gabaldon's Outlander series is an incredible introduction to the time travel genre. In the books, Claire Randall's entire life shifts when she travels back in time through the stones at Craigh na Dun, arriving in Scotland in 1743. There, she meets her 18th-century husband, Highland warrior Jamie Fraser, and their epic love story spans centuries.
Gabaldon first published Outlander—the book that would eventually inspire the television series starring Caitriona Balfe as Claire and Sam Heughan as Jamie—in 1991, and the ninth novel in the series, Go Tell the Bees That I Am Gone, came out in November 2021.
As season six of the Outlander show is currently airing on Starz, now's the perfect time (ha) to dive into time travel books. From time traveling romance to alternate realities to murder mysteries, there's something for everyone here.
1
The Time Traveler's Wife
Any list about time travel books must begin with The Time Traveler's Wife, right? This bestselling novel tells the love story of Henry DeTamble, a dashing, adventuresome librarian who inadvertently travels through time, and Clare Abshire, an artist whose life takes a natural sequential course. Plot sound familiar? The book was adapted into a 2009 film starring Rachel McAdams and Eric Bana, and is soon to be a TV show starring Theo James and Rose Leslie.
2
Kindred
Author Octavia Butler is a queen of science fiction, and Kindred is her bestselling novel about time travel. In it, she tells the story of Dana, a Black woman, who is celebrating her 26th birthday in 1976. Abruptly, she's transported back to Maryland, circa 1815, where she's on a plantation and has to save Rufus, the white son of the plantation owner. It's not just a time travel book, but one that expertly weaves in narratives of enslaved people and explores the Antebellum South.
3
A Murder in Time
Kendra Donovan is a rising star at the FBI, until one disastrous raid when half her team is murdered and a mole in the FBI is uncovered. After she recovers from her wounds, she's determined to find the man responsible for the death of her team—yet upon her arrival in England, she stumbles back in time to 1815. Mistaken for a lady's maid, Kendra is forced to quickly adapt to the period as she figures out how to get back to her own timeline. There are five books in the Kendra Donovan series, so if you love a time travel mystery, don't miss these.
4
Faye, Faraway
Diana Gabaldon herself called Faye, Faraway "a lovely, deeply moving story of loss and love and memory made real," so you know it's going to be good. The plot focuses on Faye, a mother of two, who lost her own mother, Jeanie, when she was just 8 years old. When Faye suddenly finds herself transported back in time, she befriends her mother—but doesn't let on who she really is. Eventually, she has to choose between her past and her future.
5
The Eyre Affair
In this version of Great Britain circa 1985, time travel is routine. Our protagonist is Thursday Next, a literary detective, who is placed on a case when someone begins kidnapping characters from works of literature and plucks Jane Eyre from the pages of Brontë's novel.
Bonus: The Eyre Affair is the first in a seven book series following Thursday.
6
The River of No Return: A Novel
Lord Nicholas Davenant is about to die in the Napoleonic Wars in 1812, and wakes up 200 years later. But he longs to return back in time to his love, Julia. When he arrives in modern society, a mysterious organization called the Guild tells him "there is no return," until one day, they summon him to London and he learns it's possible to travel back through time. A spy thriller that's also historical romance that's also time travel… Say less.
7
One Last Stop
Casey McQuiston's second novel is a queer time-loop romance set on the Q train in New York City, and it's riveting. August is 23, working at a 24-hour diner, and meets a gorgeous, charming girl on the train: Jane. But she can't seem to meet up with her off the Q train—until they figure out Jane is stuck in time from the 1970s. How did she travel through time? Can August get Jane unstuck? Will they live happily ever after!? The questions abound.
8
What the Wind Knows
Anne Gallagher grew up hearing her grandfather's stories of Ireland. When she returns to the country to spread his ashes, she is transported back in time to 1921—and is drawn into the struggle for Irish independence. There, she meets Dr. Thomas Smith, and must decide whether or not she should return to her own timeline or stay in the past. As one reviewer wrote on Amazon, What the Wind Knows is a "spectacular time travel journey filled with love and loss."
9
The Midnight Library: A Novel
Imagine a library with an infinite number of books—each containing an alternate reality about your life. That's the plot of The Midnight Library, where our protagonist Nora Seed enters different versions of her life. She undoes old breakups, follows her dream of becoming a glaciologist, and so much more—but what happens to her original life?
10
The Rise and Fall of D.O.D.O.: A Novel
In this novel from Neal Stephenson and Nicole Galland, magic existed—until 1851. A secret government organization, the Department of Diachronic Operations (or D.O.D.O. for short), is dedicated to bringing magic back, and its members will travel through time to change history to do so. As Kirkus Reviews wrote, the novel "blend[s] time travel with Bourne-worthy skulduggery." It's a delight for any fans of science fiction, with a slow burn romance between military intelligence operator Tristan Lyons and linguist Melisande Stokes.
11
The House on the Strand
Set at an ancient Cornish house called Kilmarth, where Daphne du Maurier lived from 1967, The House on the Strand story follows Dick Young, who has been offered use of Kilmarth by an old college friend, Magnus Lane. Magnus, a biophysicist, is developing a drug that enables people to travel back to the 14th century, and Dick reluctantly agrees to be a test subject. The catch: If you touch anyone, you're transported back to the present. As the story goes on, Dick's visits back to the 1300s become more frequent, and his life back in the modern world becomes unstable.
12
The Kingdoms
It's 1898 and there's a man named Joe, who lives in London, which is, in this alternate historical, a part of the French Empire as in this version of the past, Britain lost the Napoleonic Wars. Joe has gotten off a train from Scotland and cannot remember anything about who he is or where he's from. He soon returns to his work, and after a few years, he is sent to repair a lighthouse in Eilean Mor in the Outer Hebrides. Joe then finds himself a century earlier, on a British boat with a mysterious captain, fighting the French and hoping for a future that is different than the one he came from. If you're into time travel and queer romance and alternate history, this is for you.
13
The Future of Another Timeline
In 1992, 17-year-old Beth agrees to help hide the dead body of her friend's abusive boyfriend. The murder sets Beth and her friends on "a path of escalating violence and vengeance" to protect other young women. In 2022, Tess decides to use time travel to fight for change around key moments in history. When Tess believes she's found a way to make an edit to history that actually sticks, she encounters a group of time travelers bent on stopping her at any cost. Tess and Beth's lives intertwine, and war breaks out across the timeline.
14
Shadow of Night
The sequel to A Discovery of Witches, the plot of Shadow of Night picks up right where the story left off: With Matthew, a vampire, and Diana, a witch, traveling back in time to Elizabethan London to search for an enchanted manuscript. You really need to read the first book before reading Shadow of Night, but the series by Deborah Harkness is a swoony magical romance.
And: It's now a TV show!
15
The 7 1/2 Deaths of Evelyn Hardcastle
In The 7 1/2 Deaths of Evelyn Hardcastle, the same day happens again and again. Each day, Evelyn Hardcastle is murdered at 11:00 p.m at Blackheath. And each day, our protagonist Aiden Bishop wakes up in the body of a different witness—and tries to solve her murder. He only has eight days, and it's a race against time to solve Evelyn's murder and to escape the time loop.
16
This Is How You Lose the Time War
Cowritten by two beloved and award-winning sci-fi writers, this epistolary romantic novel tells the story of two time-traveling rivals who fall in love. Agents Red and Blue travel back and forth throughout time, trying to alter universes on behalf of their warring empires—and start to leave each other messages. The messages begin taunting but soon turn flirtatious—and when Red's commander discovers her affection for Blue, they soon embark down a timeline they can't change.
17
Recursion: A Novel
In 2018 New York City, detective Barry Sutton fails to talk Ann out of jumping off a building. But before Ann falls to her death, she tells him she is suffering from False Memory Syndrome—a new neurological disease where people are afflicted with memories of lives they never lived. The dissonance between their present and these memories drives them to death. This is best read unspoiled, but it's undoubtedly a time travel story you haven't read before.
18
The Mirror
Open Road Media Mystery & Thriller
On the eve of her wedding day, Shay Garrett looks into her grandmother's antique mirror and faints. When she wakes up, she's in the same house—but in the body of her grandmother, Brandy, as a young woman in 1900. And Brandy awakens in Shay's body in the present day in 1978. It's like Freaky Friday, but with time travel to the Victorian era.
19
Here and Now and Then
Kin Stewart is a time traveler from 2142, stuck in 1990s suburban San Francisco. A rescue team arrives to bring Kin back to his timeline—but 18 years too late. Does Kin stay with his "new" family, and the life he's built for himself in San Francisco, or does he return to his original timeline? He's stuck between two families—and ultimately, this is a time travel tale about fatherhood.
20
A Knight in Shining Armor
Originally published in 1989, this romance novel features a present-day heroine and a knight from the 16th century who fall in love. Per the book's description: "Abandoned by a cruel fate, lovely Dougless Montgomery lies weeping upon a cold tombstone in an English church. Suddenly, the most extraordinary man appears. It is Nicholas Stafford, Earl of Thornwyck…and according to his tombstone he died in 1564. Drawn to his side by a bond so sudden and compelling it overshadows reason, Dougless knows that Nicholas is nothing less than a miracle: a man who does not seek to change her, who finds her perfect, fascinating, just as she is. What Dougless never imagined was how strong the chains are that tie them to the past…or the grand adventure that lay before them."
21
A Spy in Time
In A Spy in Time, South African writer Imraan Coovadia addresses the question of time traveling while Black. Part crime thriller, part Afrofuturist novel, part time travel story, Coovadia's novel follows Enver Eleven, a 25-year-old agent for a mysterious organization as he travels from 23rd-century Johannesburg back to 1950s Marrakesh. When his handler is kidnapped, Enver sets out on a mission to save their future.
"The past is a really different place depending on who you are," Coovadia told Crime Reads. "Time travel writers, I'm not sure that they really exploited or looked into that problem as much as they could have."
22
Time and Again
In Time and Again, Advertising artist Simon "Si" Morley is recruited to join a covert government operation exploring the possibility of time travel, and he jumps at the chance to leave his mundane 20th-century existence and step into the past. Si travels to 1882 New York City, and he falls in love with a woman he meets there. Soon after, he must choose whether he should stay in 1880s New York, or return to his present. Want to read the reviews before you dive in? Start here: Stephen King called this 1970 novel "the greatest time-travel story."
23
The Rose Garden
The Rose Garden, per its book description, "drops a modern woman into the middle of a historical fiction novel when she's thrown back to 18th century Cornwall—only to find that might just be where she belongs." The time travel romance follows Eva Ward, who leaves Hollywood for her hometown of Cornwall, only to find herself falling in love with Daniel Butler, a man lost in time.
Outlander fans, Diana Gabaldon blurbed The Rose Garden, writing, "I've loved every one of Susanna's books! She has bedrock research and a butterfly's delicate touch with characters—sure recipe for historical fiction that sucks you in and won't let go!"
24
How to Live Safely in a Science Fictional Universe: A Novel
The blurb of this novel is extremely compelling: "Every day in Minor Universe 31 people get into time machines and try to change the past. That's where Charles Yu, time travel technician, steps in. He helps save people from themselves. Literally. When he's not taking client calls, Yu visits his mother and searches for his father, who invented time travel and then vanished. The key to locating his father may be found in a book. It's called How to Live Safely in a Science Fictional Universe, and somewhere inside it is information that will help him. It may even save his life."
25
Shining Girls
The logline of Shining Girls is "the girl who wouldn't die hunts the killer who shouldn't exist." Harper Curtis is a serial killer who travels through time—vanishing after committing each murder—and Kirby Mazrachi was one of his victims. Until she survives. Determined to bring Harper to justice, she realizes that he's doing the impossible. It's an extremely scary take on the time travel genre.
26
The Time Traveler's Almanac
A must-read for any fans of time travel fiction, The Time Traveler's Almanac is "the largest and most definitive collection of time travel stories ever assembled." In it, editors Ann and Jeff VanderMeer compile more than a century's worth of literary travels—with stories from Douglas Adams, Isaac Asimov, Ray Bradbury, William Gibson, Ursula K. Le Guin, George R. R. Martin, Michael Moorcock, H. G. Wells, Connie Willis, and more.
27
Before the Coffee Gets Cold
"If you could go back, who would you want to meet?" asks the book Before the Coffee Gets Cold. "In a small back alley of Tokyo, there is a café that has been serving carefully brewed coffee for more than one hundred years. Local legend says that this shop offers something else besides coffee—the chance to travel back in time." Over the course of Toshikazu Kawaguchi's novel, four customers visit the café in hopes of traveling back in time. But it isn't that simple…
28
The Paradox Hotel
It's 2072 and January Cole is in charge of security at the Paradox Hotel, a place where tourists stay before their travels to different time periods, like Ancient Egypt or the Battle of Gettysburg. She used to be a time-traveling detective for the Time Enforcement Agency, but too much time spent time traveling is bad for one person. Soon, accidents start happening at the Paradox Hotel, and only January can solve it.
29
Oona Out of Order
On New Year's Eve 1982, Oona Lockhart faints and awakens 32 years into her future. She soon learns that with each passing year she will leap to another age at random. A fascinating take on the time travel narrative: what would happen if you live your life out of order?
30
All Our Wrong Todays: A Novel
In an alternate 2016, technology has solved all of humanity's problems. Our protagonist, Tom Barren, isn't happy. Rather, he's heartbroken to have lost the girl of his dreams—and he has access to a time machine. He gets stuck in our version of 2016 (with all the problems), and is desperate to return back to his reality. As the blurb reads: "Now Tom faces an impossible choice. Go back to his perfect but loveless life. Or stay in our messy reality with a soulmate by his side. His search for the answer takes him across continents and timelines in a quest to figure out, finally, who he really is and what his future—our future—is supposed to be."
31
The Little Shop of Found Things
When Xanthe and her mother Flora leave London for a fresh start, they take over an antique shop in the historic town of Marlborough. Xanthe discovers she can sense the past of antiques she touches, and when she finds a beautiful silver chatelaine, she can more than sense its past—she travels back in time to 1605, where she's tasked with saving a young girl's life. There, she meets architect Samuel, and you can guess how things go…
32
An Ocean of Minutes
It's 1981 America, and there's a deadly flu pandemic ravaging the nation. Oh, and time travel exists. Polly and Frank are a couple, and Frank has caught the virus. So they decide that Polly will time travel—if she signs up for a one-way-trip into the future as a bonded laborer, the company will pay for Frank's treatment. So when Polly leaves Frank in Houston in 1981, they agree to meet again in 12 years. But Polly is re-routed an extra five years in to the future, and can't find Frank. Can their love stand the test of time?
33
The Impossible Lives of Greta Wells
After the death of her beloved twin brother and the abandonment of her long-time lover, Greta Wells undergoes electroshock therapy. While getting this treatment, she is repeatedly sent to 1918, 1941, and back to the present in 1985—and in each timeline, Greta is living a completely different life. Which will she choose? Though the lives have similar threads, each has its own pros and cons. As her final treatment approaches, she must decide where to stay.
34
11/22/63
On November 22, 1963, President John F. Kennedy was killed in Dallas, Texas. Years later, Jake Epping, a 35-year-old high school teacher, discovers a portal that can take you back to 1958—and decides he will go back and prevent the assassination of JFK. Of course, it's not that straightforward.
35
A Wrinkle in Time (Time Quintet)
Last but certainly not least: Madeleine L'Engle's classic young adult novel about traveling through time. The 1963 coming-of-age story focuses on Meg, who embarks on a journey through space and time with her brother Charles Wallace and friend Calvin O'Keefe, as she sets out to save her father.
This content is created and maintained by a third party, and imported onto this page to help users provide their email addresses. You may be able to find more information about this and similar content at piano.io